Williams v. California: Lessons From Nine Years of Implementation
(report released September 29, 2013; 3.1MB PDF)
Williams v. California: A Progress Update
(report released May 29, 2009; 2.3MB PDF)
Williams v. California: The Statewide Impact of Two Years of Implementation
(report released August 13, 2007; 2.8MB PDF)
Research Methodology
The Williams v. California Settlement: The First Year of Implementation
(report released December 15, 2005; 3.9MB PDF)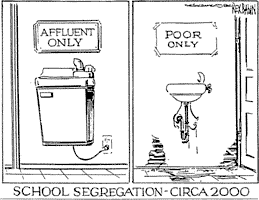 © 2000. Reprinted with permission of Rex Babin and The Sacramento Bee.
Should California schoolchildren be taught in crummy, overcrowded schools without enough textbooks and trained teachers?
How can we expect students to learn in such schools?
Far too many California children attended schools that:
hired too many untrained teachers;
suffered from serious overcrowding;
were in terrible shape, with filthy bathrooms, leaky roofs, and heating and cooling systems that did not work; and
did not have enough textbooks or rely on textbooks that were out-of-date.
Fixing these problems is ultimately the State's job.
That's why we brought this lawsuit -- to achieve decent schools for all California schoolchildren.